LEED Program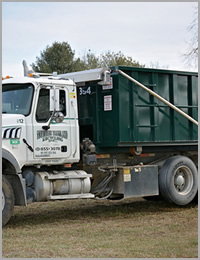 South Maryland Recycling & Trash Inc. is proud to announce that it is now part of the Leed program. The leed program consists of wood, cardboard, concrete, metal, and etc. After each load you will get an invoice showing the percentage of the recyclables.


If you would like more information on our leed program, please call
(301) 855-3078 or (800) 634-3078
LEED Reporting
South Maryland Recycling & Trash Inc. recognizes the importance of the Leadership in Energy and Environmental Design (LEED) Green Building Rating System and similar standards of achieve Green Building construction standards. To that end, our company has implemented programs to maximize the recycling rates achieved at each facility and the attendant reporting requirements. These reports are included as part of this proposal, at no additional cost. Invoices will include a copy of each disposal ticket, a requirement of the LEED submittal process. At the customer's request, South Maryland Recycling & Trash Inc.will prepare and submit a LEED waste management plan prior to commencement of the job. Our company is committed to working with our customer to achieve their requirements under the LEED program.

Analysis of Job Site Waste Generated
Land Clearing Debris
Asphalt
Concrete
Metal (ferrous)
Metal (non-ferrous)
Plastic
Wood
Gypsum
Paper
Carpeting & padding
Ceiling tiles
Insulation
Tires
Cardboard




Separation and Delivery

The sorting and separation of debris/waste will be done off-site by the waste management company.
According to the LEED Program, materials that are recovered at the facility includes but not limited to, the following:

Drywall
Cardboard and Paper
Plastic
Carpeting
Wood (unpainted and untreated)
Metal (ferrous and non-ferrous)
Aggregate Materials (concrete, asphalt, dirt and other earthen materials)
LEED PROGRAM South Maryland Recycling & Trash Inc. is part of the Leed program. The leed program consists of wood, cardboard, concrete, metal, and etc. After each load you will get an invoice showing the percentage of the recyclables If you would like more information on our LEED program, please call 301-855-3078 or 1-800-634-3078