About Us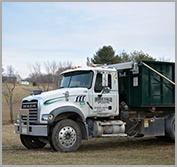 Southern Maryland Recycling, INC.
Thank you for the opportunity to introduce you to Southern Maryland Recycling, Inc. Our company is locally owned and operated, and has been serving the Southern Maryland area since 1997.
Southern Maryland Recycling, Inc. specializes in the removal and disposal of construction and demolition debris. We offer complete roll-off service for both industrial and commercial waste. Our extensive inventory of 15, 20 and 30 yard containers ensures our ability to provide you with what will be most beneficial to your job. We now offer residential trash pick up including 2, 4, 6 and 8 yard containers rear end load.
We encourage you to compare our service and prices, as well as talk to our customers to help you gain valuable information to see if we can be of assistance to you. We would like to have the opportunity to tailor a solution to meet your needs, whether it is a short term project or an on-going project.


We also recycle concrete and wood
Buy all types of steel
We are state certified tire hauling and we can pick up large amounts of tires from jobs
We have all types of Equipment for demolition work and land clearing
We pride ourselves on the ability to respond quickly to our customers' demands and look forward to doing business with you.
The Difference
Trash Weekly Pickup: Bins, Toters
Scrap Metal Collection
Rear Load & Roll-Off Containers
Construction Site Cleanup
Demolition & Hauling
Recycling & Dumpster Service
Garbage Removal & Trash Pick-Up
Scrap Tire & Rubbish Collection
Waste Reduction Consultation
Waste Treatment & Removal
Industrial Waste Recycling
Licensed Tire Collector & Hauler
LEED Reporting Participant
Testimonial
"Finally! After countless companies, we have now found an affordable, trustworthy waste management service provider..."